Obituary for Daniel Francis Courtney, Sr.
Daniel F. Courtney, Sr., 91, a 56-year resident of Lombard, passed away to Eternal Glory on Aug. 31, 2018. Daniel is preceded in death by Eleanor, his loving wife of 54 years, and his parents, James and Catherine Courtney. Left to miss his laughter, smile and "Irish eyes" are his loving children, Daniel F. Courtney, Jr. (Randine), Kevin, Brian and Barbara (Kurt) Harfmann and his grandchildren, Courtney (Ryan) Plunkett and Kyle Harfmann. Daniel lived to serve the Lord and others. For more than 30 years, Daniel worked as a counselor at the Archdiocese of Chicago, where his compassion and love of people shone through. He served as Toastmaster at many cemetery functions, dressed up as Santa for the neighbors, and delivered Meals on Wheels to local seniors for 10 years. Daniel also was a Lector at Sacred Heart Catholic Church and St. Pius X. Daniel loved drinking coffee and we always joked that there wasn't a fast-food restaurant that he didn't like. The family is forever grateful for the support, care and compassion of Heartland Hospice. We will miss Dan's gregarious personality until we are reunited with Our Lord in our Mansion in the Sky.

First of all, on behalf of my brothers, Dan Jr., his wife, Randine, Kevin, I and our sister, Barbara, and her family, we want to thank everyone for being here today to celebrate the life, love and legacy of our father, Daniel F. Courtney, Sr.

For 91 years until His Homecoming, Dad truly lived to serve the Lord and others, both in his work as a Counselor for 30 years at the Archdiocese of Chicago and in his many volunteer pursuits. Dad delivered Meals on Wheels at the Senior Center for more than 10 years, dressed up as Santa for the neighbors, and served as a Lector at both Sacred Heart Catholic Church and here at St. Pius X. He coached his sons in Little League, drove Barbara to job interviews where he would wait patiently in the car because he knew she was directionally deprived!

Dad and our dear mother, Eleanor, were married 54 years before Mom's passing in 2004 and together, they made quite a pair. It might surprise many that Mom, just like dad, was a talker. Mom would go into Mr. Z's for a few items and Dad would wait patiently in the car. As more time passed, Dad would go into the store and find mom gabbing away, sharing her faith. "Eleanor, Eleanor, what are you doing?," he'd say. But he always let Mom be who she was called to be and loved her unconditionally through sickness and health.

What a legacy our parents left us! We spent many happy family times at Chicago White Sox baseball games, traveling to Wisconsin, playing Ping Pong and Bunco and laughing and fighting through good times and bad.

Dad was a teller of Irish jokes, which came in handy as the "Official Toastmaster" at many cemetery parties. He always recognized colleague's birthdays and would often write special poems and letters to acknowledge others and to make them feel special. Our family always joked that there wasn't a fast-food restaurant across Chicagoland that dad didn't frequent. He loved coffee and would read his paper and visit with his "cronies" like Randine's dad, Mr. K., he recently died in a head-on car crash in May. May they both rest in peace!

Sometimes Dad would go to more than one fast-food joint in a day. He'd start at McDonald's and then head to White Castle for more "nutritious" food. The White Castle bunch met regularly to chat and dad organized monthly bday parties celebrated with sliders and cake. Disgusting!

One story in particular really resonates how dad went out of his way to help others, even strangers, who needed a little TLC. One day as he was leaving White Castle in Lombard, two young men approached my dad asking for a few dollars and a ride to the South Side of Chicago!! Without hesitation, dad packed the young men in his Chevy Impala and drove the 20-25 miles to an aunt's house. However, he got quite a surprise that evening when a photo of the young men flashed on the TV screen. They were convicted felons who had escaped from Joliet Prison. My dad had given a ride to felons, one of whom was in jail, ironically enough, for car-jacking! We laugh about it now, but give thanks to the Lord for placing hedges of protection over our dad.

He In later years, dad didn't have it quite as easy as he was diagnosed with Alzheimer's disease and the man who had always engaged others with his outgoing personality, was slowly robbed of his ability to speak. But even this cross, dad beared with grace and dignity. His "Irish eyes" continued to smile on us and we also know that he recognized and appreciated everything we were doing for him.

Dad entered a nursing home in July 2014, was placed on Hospice in October and the family made the decision to bring our dear dad home in November where Kevin and I gave him 24/7 care, bathing him twice a day, shaving him and feeding him favorite foods like pizza, McDonald nuggets, milkshakes, pudding, etc. It would sometimes take over an hour to feed dad, but Kevin would repeatedly say, "push it back, Dad, chew and swallow." And he did! He actually gained weight and truly enjoyed eating and watching the busy traffic go by on Westmore Avenue.

One of our wonderful hospice nurses, Michelle Trevino, noted that our dad had defied the odds, living on hospice for an AMAZING four years. While most people are on hospice for a week or anywhere from three to six months, Dad beat the odds by the grace of God's mercy and the compassionate, loving care he received from Heartland Hospice. We are forever indebted to Rhonda Gordon, Lila Thullen, Michelle, Cindy and all the nurses who cared for our father and us during a difficult time.

We would be remiss if we didn't give a special shout-out to dad's music therapist, Amber Johnson. Amber, you have been such a blessing to us and we know that you are now lifelong friends of the Courtney family.

There really isn't much else to say. We know how much you would have enjoyed seeing everyone gathered here today to honor you and to pay their respects to a Class-Act, someone who loved and served His country in the Army, someone who met with families at homes and hospitals to make sure they had their cemetery lots, and someone who just loved his Lord, his family and life. We will miss you … until we are reunited someday in our Mansion in the Sky.

Visitation: Wednesday, Sept. 5, 9:30 a.m. until time of prayers at 10:30 a.m. at Knollcrest Funeral Home, Lombard, to St. Pius X Catholic Church, Lombard, for 11 a.m. funeral mass. Interment Queen of Heaven Cemetery, Hillside. Express your thoughts and condolences at www.knollcrest.net.
To send flowers or a remembrance gift to the family of Daniel Francis Courtney, Sr., please visit our Tribute Store.
Previous Events
Visitation
Knollcrest Funeral Home
1500 South Meyers Road
Lombard, IL 60148
Prayers
Knollcrest Funeral Home
1500 South Meyers Road
Lombard, IL 60148
Funeral Mass
St. Pius X Catholic Church
1025 E. Madison St.
Lombard, IL 60148
Cemetery Details
Location
Queen of Heaven Cemetery
1400 S. Wolf Rd.
Hillside, IL 60162
Memorial Contribution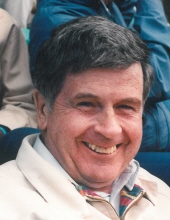 Thank you for sharing your
memory of Daniel
Provide comfort by sending fresh
flowers from our local florist.
No thanks, please don't show me this again.